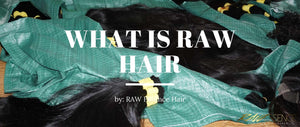 What is RAW Hair?
Raw Hair is 100% unprocessed human hair that is collected from a single donor and has never undergone any method of heat, chemical, or steam processing. Unlike virgin hair, raw hair comes in its natural state and is deemed the highest quality of hair on the market due to its purity and longevity.   
If that is not reason enough to ditch your processed chemically altered Chinese hair, here are some other wonderful benefits of RAW Hair that should change your mind:
100% Natural and unprocessed which significantly reduces the risk of harmful chemicals and carcinogens seeping into your scalp
Cuticle aligned which makes shedding and tangling virtually nonexistent 
Can take on color and lift to higher levels significantly better than any other hair on the market 
There is a texture and origin for every hair type 
Provides the ultimate versatility and longevity which in turn is a money saver 
Here at RAW Essence, we take our hair sourcing, collection, and manufacturing very seriously and have committed ourselves to guaranteeing that all of our hair is 100% free of chemicals, dyes, synthetic fibers, steam processing, and fillers by traveling the world and sourcing our hair directly. In doing so, we have been able to oversee every meticulous detail of our hair process from ensuring an ethical selection of donors (something no other company speaks about but we will talk about that in a later post), guaranteeing the collection of hair remains cuticle intact and aligned, as well as manually arranging all hair to get the same length and make certain all cuticles are going in the same direction.
Our hair collection process entails collecting our hair directly from one donor (one person) and wefting it to create one product (bundle, closure, frontal, wig, etc). What is important about this is it ensures the quality, longevity, and manageability of the hair. After collection, our hair is wefted, washed, disinfected, and inspected in order to remove any white hairs and/or foreign particles. 
Such a rigorous process undoubtedly provides the BEST quality of hair on the market that is guaranteed to last 5 years plus! 
Please note,
NOT ALL RAW HAIR IS CREATED EQUAL!
 In order to receive the full benefits of RAW Hair, the hair needs to be sourced, collected, and manufactured extremely carefully with all cuticles remaining intact. The most important step of the process can be shown above with the collection of the hair being cut directly from a donor and being immediately secured into a ponytail with the hair flowing in the same direction that it was cut in order to keep the hair cuticle aligned.
If you would like to see the actual collection process of our RAW Hair please click the link

here

, and also please note that the photo above and all other photos shown throughout this post are from our own first hand experience sourcing and collecting hair overseas. We do not use any "google" photos. 
Now that we've outlined some of the most amazing qualities of RAW Hair, it is only right that we also highlight some of its downsides:
Non-Uniform wave and curl patterns 
Limited availability and long processing times 
Significantly higher price points 
Coarseness in some batches 
Could be unethically sourced and collected (the floor, graveyards, or with violent force)
Some textures require a higher standard of maintenance than processed hair
Downsides such as these are the reason why RAW Essence works so hard to ensure quality in every strand! We have taken all of the guess work out of having to search for the best quality hair the world has to offer and made it available to women worldwide on one site! 
Hopefully this has been informative for you and you leave feeling more confident than ever choosing RAW Hair over the rest! If you liked this article and want to learn more about our hair or even want to start your own RAW Hair company, feel free to contact us and we would be more than happy to answer all of your questions! 
- RAW Essence Hair
---